Pyschic News - June 2021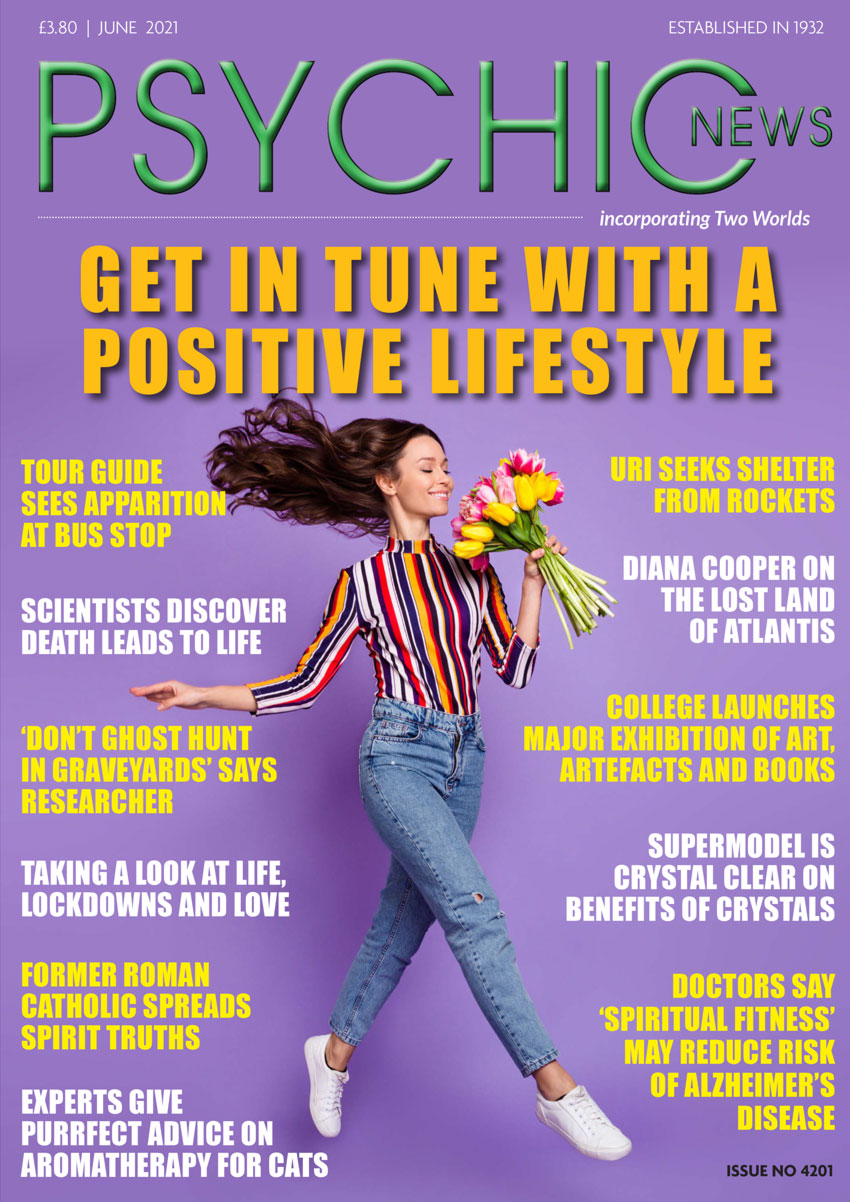 Inside the June 2021 issue of
Psychic News
we
Get in tune with a positive lifestyle
as writer Shereen Oberg gives some top tips on how to enhance, enrich and transform your life.
London's College of Psychic Studies
opens a major exhibition of hundreds of works of art, paranormal photographs, artefacts and books.
Former Roman Catholic now spreads spirit truths
: An interview with medium Leonard Tatt, who once studied at a Roman Catholic seminary.
Barbara White discusses
Exercising personal responsibility
.
Nayana Morag and Julie-Anne Thorne take an holistic approach towards treating cats and maintaining their health in
Experts give purrfect advice on aromatherapy for cats
.
In
The lost land of Atlantis
, Diana Cooper, who has produced over 30 books, card decks and CDs, describes where, when and how Atlanteans lived.
Graham Jennings
investigates science and the afterlife, King Arthur and the mediumship of Hester Dowden.
In
Photographs of the dead?
John West examines some classic images of ghosts and spirit forms which are still hotly debated to this day.
Imagination is the bridge between this world and the next:
"We live in a multi-dimensional universe in which innumerable worlds coexist at the same time, interpenetrating each other without interference," says medium Billy Roberts.
David Hopkins takes a look at
Life, lockdowns and love
.
IN THE NEWS:
■ Metal bender and motivational speaker Uri Geller tells of taking shelter as rockets land in Tel Aviv during the recent conflict.
■ Famous author gives some sage advice on dealing with the pandemic.
■ A study finds that mindfulness can help anxious students.
■ Disability campaigner criticises guided meditation apps.
■ Doctors say 'spiritual fitness' may reduce risk of Alzheimer's disease.
■ Lawsuits are taken out against 'Sleeping Prophet' centre.
■ Supermodel is crystal clear on benefits of crystals.
■ Tour guide sees apparition waiting at bus stop.
Plus much, much more.
Download your copy now at 
https://www.psychicnews.org.uk/