Over on the Krazy Kats forum, we have a thread that records significant things relevant to "This day in History", provided by The Free Encylopedia, it changes every day.  One of the events recorded for today (13th March) is the following (Post no. 122 -
HERE
) :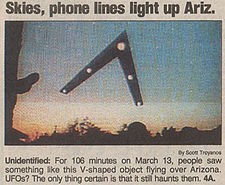 The Phoenix Lights: Aliens or Air Force?
In 1997, thousands of people reported a series of optical phenomena - since known as the Phoenix Lights - taking place in the skies over the US states of Arizona and Nevada.  The sightings consisted of two events:  a triangular formation of lights observed passing overhead and a series of stationary lights seen in the Phoenix area.  Although the US Air Force identified the second group of lights as flares, many believe the first set of lights were those of a UFO, including what notable politican? 
More...
---
As this is something I personally am not too knowledgeable about, I looked it up to see if I could find out more about what happened there.  I found this documentary:
This documentary was made (or at least updated) in 2009. Anyone know if there has been any repeat or any further info discovered since then?