Issue 90 - October 2019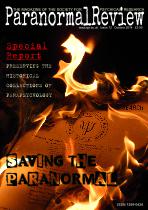 Contents

4  THE EGREGIOUS STATE OF SCEPTICISM

SPR President Prof. Chris Roe dissects the sceptics' response to Etzel Cardeña's article on parapsychology in American Psychologist.

6   FANNY MOSER AWARD

Announcement of the IGPP's relaunched award named in honour of German psychical researcher Dr Fanny Moser.

7  PERMANENT PARANORMAL OBJECT

Dr Antje Bosselmann­Ruickbie presents a relatively recently discovered lead curse tablet from the ancient Roman city of Mogontiacum.

8  ARROWS OF TIME

Dr Charles Whitehead encounters what may be retrocausality firsthand and discusses the implications for Stephen Hawking's 'Theory of Everything', free will and mega­psi.

15   INCIDENT ON KINVER EDGE

An improbable chance meeting leads Dr John Tate to explore the concept of synchronicity.

18  PSI ON THE TYNE

Dr Leo Ruickbie reports on the 42nd Annual International Conference of the Society for Psychical Research in Newcastle in 2018, including invited speakers Dr David Luke, Dr Bernardo Kastrup and Dr Rupert Sheldrake.

24   CALLUM COOPER AND THE DEAD RINGERS

PR Events Reporter Ashley Knibb covers Dr Callum Cooper's Gwen Tate Memorial Lecture on 'Dead Ringers or Mistaken Mechanisms?'.

24   GHOSTS IN THE MACHINES

Resident expert Brandon Hodge delivers part 2 of the Spiritualist origins of the Ouija Board, with the controversy of who named the Ouija.

28  CONTRIBUTORS

Short biographies of this issue's contributors.

28   ANNOUNCEMENTS

The Helene Reeder Memorial Fund and a call for psychic experiences.