GDPR is now in operation - from 25th May 2018. 
But what exactly is GDPR ?  This link should make it all a little easier to understand:
https://www.schemeserve.com/blog/need-know-idiots-guide-gdpr
You've probably been inundated over the last few weeks with annoying emails from companies and organisations all over the net, advising of their security & privacy terms, & giving you the option to continue receiving stuff from them or the choice to 'unsubscribe' from their marketing notifications. 
In short, all these online companies are now compelled by law to comply with the European security laws protecting people's privacy on line.  These new restrictions came into force on 25th May 2018 (yesterday) and basically, all that it means is that online personal data of every individual should now be a lot safer and more secure - giving the individual user more control over the stuff that gets shared or kept private.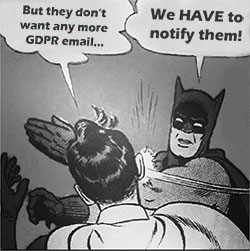 Here on the forum, the security and privacy of all our members' data has
always
been a matter of top priority, so nothing has changed here with the introduction of these new laws.  The only thing that needs to be taken into consideration now - is that you will need to re-set your preferences again from your personal control profile panel.  (e.g. If you have set a preference to receive notifications by email when a reply has been mad to one of your watched topics on the forum - you might need to re-set that preference again.  Even though you might have the box ticked in the individual topic, or in the notifications bar at the top of the forum, it still needs to be ticked from your profile).  Otherwise, the default will be for no notifications etc.  Same goes for receiving Newsletters - you may already have requested to receive(or not) these notifications - but if you still want to receive them, you will now need to tick the box again in your profile.  New members registering on the forums will now automatically have to set these preferences before their registration can be accepted.